Now available to recreational customers
Welcome to a new month at Nature Med! This month we are introducing new deals for both medical patients and recreational customers! Below, you will find a list of dispensary sales for the month of June. Our staff is working hard to bring the best products with the best prices and we are excited to share what's happening this month at Nature Med. Drop a comment below and let us know what sale you are most interested in and what item you would like to see on sale in the future!
First Saturday Deal!
6 pre-rolls for $30
3 grams of Distillate for $100
4 grams of RSO $100th
Buy an Inhouse 1/8th and get an 1/8th 50%OFF (Limit 1/ Excludes shake and premium 11/8ths)
Buy Inhouse Gram get a gram 50% off (Limit 3)
$250 for a Top Tier Oz (Comes in 8 prepackaged 1/8ths (Limit 1)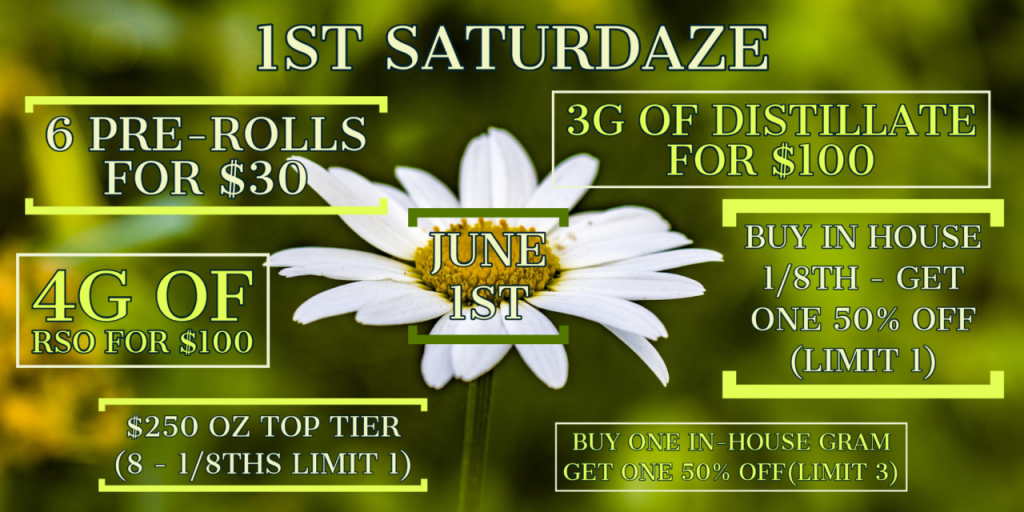 Daily Specials
Our daily specials are now available for both medical patients and recreational customers. Each day offers a different sale so make sure to find the one that is right for you. These specials are a great way to schedule your visit to the dispensary:
Monday – 30 % off Rove Vapes
Tuesday – 40% off CBD/THC Wellness products
Wednesday – Buy One Get One (BOGO) Golden Label Vapes
Thursday – 20% off edibles
Friday – BOGO Golden Label Vapes
Saturday – 20 % off Concentrates / 5G FOR $100 (medical patients only)
Sunday – 15% OFF ENTIRE ORDER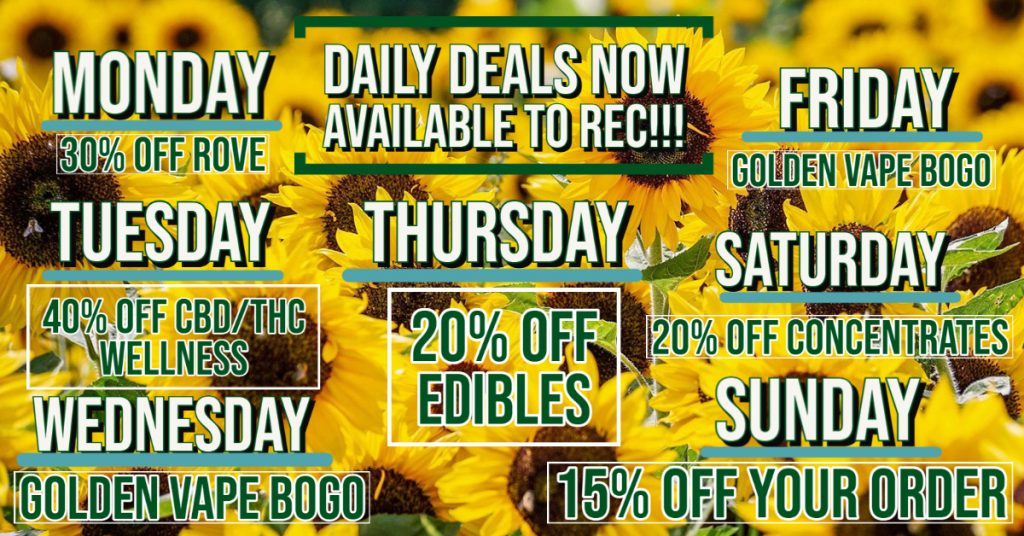 Vendor Deals
In addition to the daily deals above, we will also be offering a variety of vendor deals throughout the month as well. You can use vendor deals to stock up on some of your favorites or cut the cost if you want to try something new.
Mind Ryte: BOGO Wednesday, June 2nd and 23rd
Sublime: 40% off Every Thursday this month
Holoh: 2 grams of Live Resin for $80 Every Saturday this month
Holoh: 2 grams of Cured Resin for $50 Every Saturday this month
Timeless: Buy One Get One Friday, June 11th & 25th
Tipsy Turtle: 30% off Fathers day weekend June 18-20th
*Exclusions may apply. While supplies last. See Budtenders for details.
* Online Menu available for recreational customers and medical patients.