The world of weed edibles, once a somewhat obscure market in pre-legalization times, is now exploding! While the term "edibles" includes teas, fizzy drinks, chocolate, cookies and more, most beginners like to start with the weed gummy. Perfectly-dosed soft chews are offered in a variety of types, shapes, and sizes, not to mention colors and flavors! All that juicy goodness in a cute little package…no wonder they're so popular.
Since gummies are discreet, don't require vaping or smoking to get high, and are easy to slip into a bag or your pocket, they are the edible of choice for many.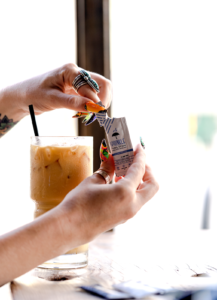 With so many choices on the market and concerns about choosing the wrong one and having a bad experience, how do you choose which gummies to try?
Here is a short and sweet (see what we did there?) guide to gummies.
Start Low and Go Slow
This is a common phrase when referring to the dosage of cannabinoids. In Canada, cannabis is sold in individual packages that are labeled with the maximum total dose of THC included on the packaging (there is no maximum dose of CBD). While the Canadian limit is 10mg of THC, that is a lot for a beginner to ingest. If you're a newbie, aim for 1-3mg at first to get a feel for the high and adjust as you go. This also goes for those who haven't used cannabis in a long time and are getting back into it.
Pay attention to packaging. The THC dose may be spread out among many gummies or maybe all in one single high-dose one. Packaging also should specify how much THC is in the gummies per unit (so for each individual gummy). Another place to look is on the in-store display or on the website; you'll often find details about the total maximum dose in the package (ie. 10 mg) as well as the dose per unit (ie 4 gummies with 2.5mg of THC each).  All of this will help you gauge how many gummies to enjoy while keeping tabs on your THC consumption. Start slow, go slow.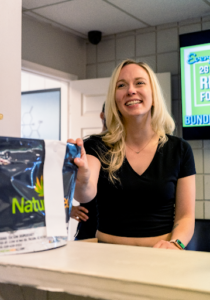 Arizona Adult Use Edible Guideline
You may not be aware, but in Arizona, Adult User customers have specific requirements around the types of Edibles they are allowed to purchase. All edibles cannot exceed 100mg total and must be individually dosed to 10mg pieces. As mentioned before, it's helpful to keep your dose to half or a quarter of the 10mg dose if you're new to edibles.
Wait For It
A lesser-known fact is that edibles typically take longer to kick in (about 4 hours on average) and last longer than a bong hit or a couple of puffs on a joint (around 4-12 hours). Because of this, rookies tend to think nothing is happening and pop another edible or two…which is a big mistake. Do yourself a favor and wait for the high—and it might be best to wait until the next gummy sesh before upping your dose. Slow and steady wins the race.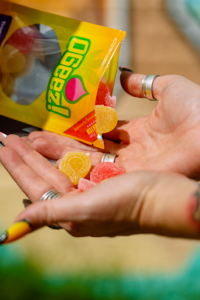 A Word From Your Mom
Ok not really, but a word of caution: balance out your THC with some thought. Reserve 10mg sessions for long stretches of time when you don't have much going on, and smaller doses for days when you need to function and be more alert. And no matter what, remember to never drive with any amount of THC (of course), and keep edibles locked away and out of reach of kids and pets.
Choices, Choices
A bag of edibles is usually under 10$, which gives you lots of choices! Whether you're looking for something to help you sleep, you're a candy-love looking to satisfy your sweet tooth or you're looking for a short trip to High City, there are tons of formulas out there.
Have we whetted your appetite, yet? If you're in the market for a juicy bag of fun weed gummies, head over to our Edibles shop to snag a bag of something fun and fruity.
At NatureMed, we are dedicated to providing our customers with only the cleanest, highest-quality cannabis products around.