What is a Dab? Cannabis Concentrates Explained
Cannabis lingo can sometimes be confusing–especially when a term coincides with the name of a trending dance move. Dabs are a form of cannabis concentrate–one of the most popular!
Cannabis concentrates come in many forms, including weed oil and other extracts included in balms and edibles. In all their forms, extracts and concentrates are worth discovering and appreciating.
Concentrates allow you to experience the greatest components of cannabis in a variety of ways, and they come in a range of textures that may be consumed in a variety of ways. Cannabis concentrates and extracts can be ingested on their own, sprinkled on a joint to improve strength, or precisely included in a batch of edibles, depending on the final shape they take.
Here is a breakdown of what cannabis concentrates and extracts are, as well as the different kinds that exist–and how to pick the ones you'll enjoy the most.
Extracts and Concentrates in a Nutshell

Cannabis concentrates, like the orange juice concentrate in the back of your fridge, are the result of distilling down the most valuable elements of the plant. They have all of the cannabinoids and terpenes found in cannabis flowers but none of the plant material. Marijuana concentrates contain considerably more cannabinoids and terpenes per ounce than raw cannabis flowers.
The effects, scent, and flavors you may experience with any cannabis product are caused by cannabinoids and terpenes. They can be found throughout the cannabis plant in the form of microscopic, glittering structures known as trichomes. A cannabis concentrate is merely a concentrated form of these trichomes. 
The Difference Between the Two
Although you may have heard the terms concentrate and extract used interchangeably, there is a distinction between the two. Extracts are a sort of concentrate that is made with a solvent. In short, while all extracts are concentrates, not all concentrates are extracts. It's ok to read that twice!
Vanilla extract, for example, is made by extracting the desired flavour component, vanillin, from vanilla bean pods using alcohol as a solvent. Other solvents, such as butane for Butane Hash Oil (BHO) and supercritical CO2 for cannabis wax extracts, may also be used.
Concentrates made without the use of solvents are made by removing and gathering trichomes mechanically or physically. Concentrates manufactured without the use of solvents include rosin, dry sift, and kief.
This variety of textures also means that you can't always tell the two apart just by looking at them.
Dabbing Explained
Dabbing is the method of heating a concentrate or extract until it vaporizes, resulting in an extremely potent vapor that the customer can inhale. Dabbing is the most prevalent technique of consuming concentrated cannabis, which explains why concentrates are referred to as "dabs". However, these products are also available as vape pens, tinctures, topicals, edibles, and other forms.
Choosing the Right Concentrate
Consider what you want to achieve before deciding on which concentrates and consumption methods will work best for you.
For example, if you're looking for a potency boost that is low-maintenance, there are some great options for you. To increase the power of your smokeables with minimal effort, try adding powdered kief to your bowl or wrapping wax over a joint. These ways do not require the purchase of any costly dab tools, while still enhancing the intensity of your smoke and adding more flavor from the concentrate.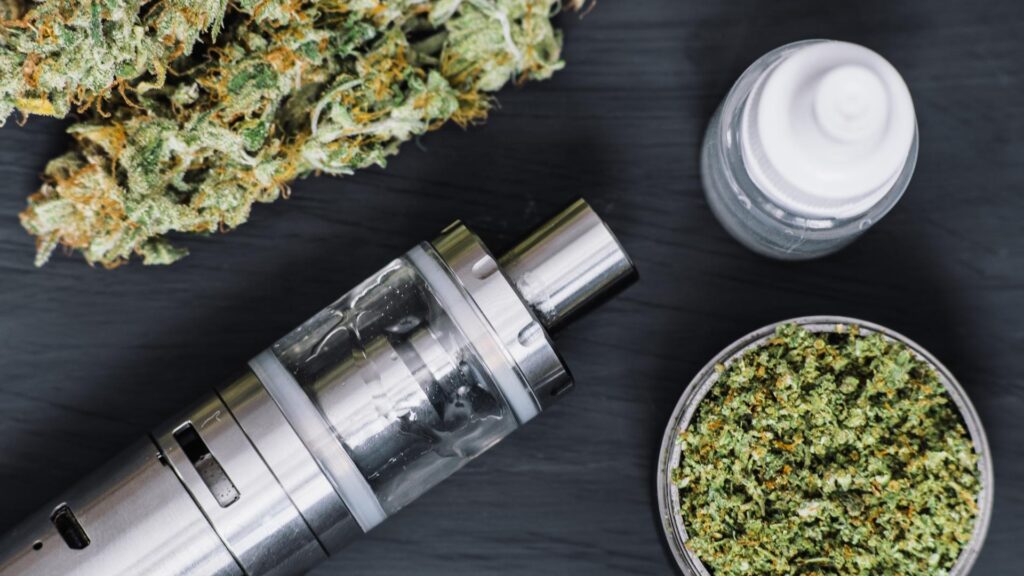 If you want a fast-acting high and something more potent, try dabbing. When most folks mention consuming cannabis concentrates, they usually refer to vaporizing the concentrate with a dab rig. This method involves heating the nail, or the dab rig equivalent of a bong bowl, and then applying the concentrate straight to the hot surface, rapidly transforming it into an inhalable vapor. The majority of dab rigs are composed of glass, with nails made of glass, ceramic, titanium, or quartz. While the classic process entails heating the nail with a torch, there are now several user-friendly e-nails available.
It's also important to note that high THC levels and dabbing are not the same thing. While high THC levels remain the norm, dabbable high-CBD concentrates and pure CBD distillate are becoming increasingly popular.
Other methods of incorporating concentrates into your day include vaping (for a light, portable high); using topicals (for targeted relief and no high); or consuming an edible (which provides a smoke-free high that lasts a while). It's worth looking into the difference between edibles and inhalables to choose the right one for you at the moment.
---
Whatever method you may choose, and whatever form of cannabis extract or concentrate you decide to use, consume responsibly in order to reap the most enjoyment out of it. There are numerous ways to experiment with concentrates. To explore them safely, only purchase from licensed brands and dispensaries, like Nature Med.
At Nature Med, we are dedicated to providing the cleanest, natural medicine for our patients and community. Our goal is to provide customers and patients with the best cannabis products available. Our knowledgeable budtenders are available to answer questions, our delivery team is ready to deliver your medicine, and we have an express window for customers that allows for easy pickup at the dispensary. Contact us to learn more about our products and services! And while you're there, why not join our Club Members Program?