Smoking Etiquette Explained
Nature Med is committed to supplying our patients and community with premium, natural cannabis products, and we want to share the knowledge our amazing budtenders have learned. We want to ease worry when it comes to consuming cannabis. That's why today, we'll be going over all things smoking etiquette: how to pass the joint, how to smoke it, who smokes first, and so much more.
According to a recent study conducted by BuzzFeed News, 84% of Americans support the legalization of cannabis for medical or recreational purposes, and many states have already heeded the public's call. So if you're in one of the lucky states and you're an adult looking to read all about the dos and don'ts surrounding smoking the sinner's spinach, stick around. 
---
What Is Smoking Etiquette?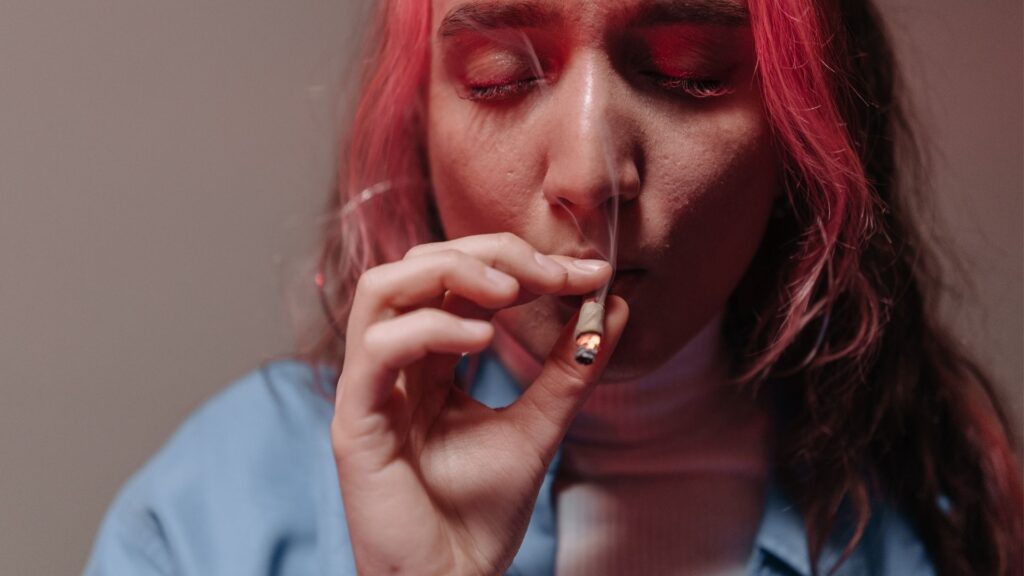 A lovely, old-fashioned smoking sesh is a staple in the life of cannabis consumers around the globe. With the smoke-sesh come a variety of questions. Should I bring my own weed? Can I smoke a joint at a dinner party? How long can I keep the joint before I have to pass it? While there aren't any hard-and-fast rules to smoking weed, there are some things to consider that will make the whole experience much more comfortable and enjoyable for all involved, and isn't that what smoking the devil's lettuce all about?
Smoking etiquette put simply, are the unwritten rules and considerations all canna-enthusiasts should follow when smoking in a social setting. A careless smoker is one of the few things that can disrupt a relaxing smoke session. Whether they dominate the supply, blow smoke at the rest of you, or pocket your lighter at the end, you're unlikely to want to smoke with them again. Smoking with friends should be a relaxing and enjoyable experience, so make sure you aren't breaching any sacred smoking rules. Let's brush up on our smoking etiquette together, read on.
The Golden (or should we say green?) Rule
Don't, under any circumstances, peer pressure anyone into smoking.
Teasing or manipulating someone into smoking is not only rude and inconsiderate but also quite immature. Ensure that the invitation to smoke is extended to everyone, without the assumption or requirement that they all want to. If someone declines, don't try to persuade them otherwise, and don't bombard them with questions or judgments as to why not. Simply mind your business and hey, that means there's more for the rest of us doesn't it?
Respect The Rotation
The order in which the joint is smoked is called the "rotation," and while it is easy to forget who goes after who (especially when it's the third rotation of the night), no one wants to miss out on their turn due to an inconsiderate neighbor. Similarly, no one wants to be an inconsiderate neighbor.
Following on the theme of the rotation is the ultimate rule: left is law. When passing, pass to your left, which originated with Rastafarians, who used to pass their smoke to the left in times of peace and to the right in times of conflict. The rule these days is to pass to the left always, but some places do have a "right-by-night" rule. Whatever sparks your joint we say.
Another aspect of the rotation, and probably one that you've heard of before is "puff, puff, pass". Essentially this means you get two tokes before you pass it on, so make them count!
Last on the list for general rotation and passing rules is this: ash before you pass. It's polite, it's quick and easy, and it may just save someone from a nice ash stain on their clothes. 
Sharing Is Caring 
Making your guests feel welcome is an important element of being a good host. The same concept applies to cannabis because a good smoke sesh is a bonding experience that pulls individuals together. It's polite to offer guests the first hit of a joint or bowl if you're the host. This immediately puts them at ease, and they will appreciate your thoughtfulness. This initial moment is called Lighting Greens. Always remember to share the greens.
If you're not the host but you plan on smoking at some point, bring along a little bud of your own if you can. It may not be needed, but as they say, rather have it and not smoke it than need it and not have it. Alternatively, you could contribute some bucks to the stash allowance if everyone is pitching in that way.
Additionally, always offer the joint to the next person before putting it out. Don't throw it away without asking if anyone would like it. Just because you don't like the last toke or two doesn't mean it's not another smoker's paradise. 
They Who Rolled, Sparks
Another seemingly age-old rule of smoking etiquette is that the person who rolls the almighty joint is bestowed the honor of lighting up and smoking it first. And if it's your weed that everyone is enjoying, be sure to let people know what it is. If you know the strain it's always fun to share with everyone smoking. Remember, even if you've had that strain before, the specific Cannabinoids & Terpenes package may be different than what you've smoked before. Think of the Entourage Effect 
Be Clean

Do we say suck the joint or smoke the joint? Smoke (we hope you got that). So, tuck those fish lips away and practice what you preach. Nothing is worse than wanting to go in for a toke from a beautifully rolled joint but instead receiving a mouthful of someone's saliva instead, so keep the dry part of your lips to the filter and certainly, no tongue action is required.
Similar to saliva management is general health. If you're sick, contagious, and likely to be spreading germs to your fellow cannabis enjoyers: don't share the joint with everyone. If you'd still like to participate in the sesh you can roll a personal joint or enjoy a bong, pipe, or your own personal vaporizer. You can still be a part of the sesh, without unnecessary sickness-spreading. After Covid-19, plenty of people prefer to keep the smoking apparatus to themselves anyway. 
Green Is Good
If you're smoking a bong or a pipe, be sure to only pass on the bowl if it's still got some green goodness in it. If it's all ash, toss it out and repack it before passing on. Additionally, you don't want to pass a bong or pipe with stale smoke in it because 1) I doubt people want your leftovers, and 2) stale smoke is the enemy of throats and lungs everywhere. Stale smoke is generally a painful and unwanted experience, you don't want that for your neighbor, do you?
One last green tip is this: burn the bowl from the outside edge moving in to ensure everyone who smokes gets a good amount of green in their hit. 
A Few Parting Tokes… We Mean Tips
If you break someone's precious bowl or bong; apologize and offer to replace it. That's just common courtesy when we have a case of butterfingers.
Don't be a lighter thief, just don't.
Don't blow your smoke in people's faces, or where someone is lighting up their own bowl or joint.
Ask permission to smoke inside, and if it's not known to be a cannabis-friendly party make sure to ask everyone if they're comfortable with weed smoking before lighting up.
Lastly, say thank you to the cannabis providers, rollers, and the cannabis itself. Gratitude is the ultimate stoner principle.
If you want to be remembered as the coolest canna-enthusiast at the sesh, bring along some snacks for the inevitable munchies.
---
If you're smoking alone, it's fair to say the rules are whatever you want them to be, but if you're in a smoke circle, you don't want to be the one who makes rookie mistakes. We know it seems like a lot to take in and remember, but don't put too much pressure on yourself. We've all messed up a rotation, turned the joint into a microphone and held it until it went out, or forgotten our goodie bag at some point. Just remember to treat others with respect, bring along whatever cannabis treats you can, and have fun with it!
We at Nature Med hope you'll feel that much more comfortable at your next smoke-sesh and remember, if you need to stock up, we have a range of quality, safe cannabis products that your ganja gang will love.