The medicinal properties of the cannabis plant have been long-known to man. For thousands of years, the plant was used as medicine, treating a variety of sicknesses and chronic conditions while also providing a path for spiritual enlightenment. The 20th century saw criminalization, and cannabis was classified as a Class 1 Drug. Fortunately, things are changing and marijuana is now legal in several states across the country. Legalization has allowed the industry to innovate, and consumers can now experience the full spectrum of cannabis benefits from safe, and reliable producers. Whether you're interested in its medicinal or recreational properties, cannabis has a benefit for everyone, and you can achieve it without even smoking! 
Alternatives to smoking
Cannabis can be consumed in a variety of ways that don't involve smoking. If prepared properly, cannabis can be extracted and infused into oil or alcohol bases and either ingested directly or mixed into foods, beverages, or topicals. For medical patients especially, smoking can be dangerous, and ingestion methods like oils and tinctures are great alternatives. 
Cannabis Oils
Cannabis oils are concentrates made by extracting cannabinoids like THC and CBD from the cannabis plant and infusing them into the oil. These are typically ingested orally and have a delayed-onset effect, usually taking about 30 minutes to be effective and lasting anywhere from 6 to 8 hours.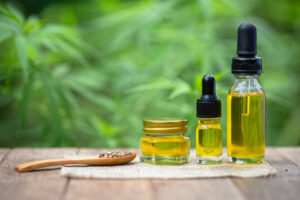 The delay exists because the cannabinoids in oils, like edibles, are processed through the liver before entering the bloodstream. Even if ingested via sublingual delivery, oils still typically take about 30 minutes to be effective. 
Typically, CBD oils populate the shelves of medicinal and recreational dispensaries, but the sale of THC and 1:1 oils has certainly increased over the years. CBD is a non-psychoactive cannabinoid and will not intoxicate consumers, making it extremely popular as herbal medicine. CBD oil is used to treat a variety of ailments from anxiety and insomnia to acne. Though not as popular in the mass market, THC oils offer non-intoxicating health benefits as well, most notably pain relief. 
Tinctures
An alternative to cannabis oils is tinctures. A tincture is an extract dissolved in ethanol (ethyl alcohol) that has a concentration range from 25%-60%, though some go up to 90%. This process is time-tested, as tinctures were actually some of the first medicines. They have an incredibly long shelf life when stored properly as well, and that only touches on the benefits of tinctures.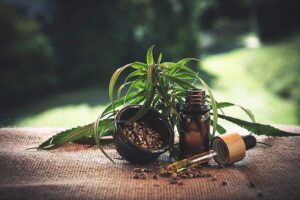 The medicinal properties of the cannabis plant are well-known and long-tested, but those who seek its benefits may not be comfortable smoking and are put off by the delayed-onset of edibles or oils. Tinctures, unlike oils or edibles, are not swallowed but are instead ingested via sublingual (below the tongue) delivery. This allows the concentrate to enter the bloodstream directly and without having to bypass the liver.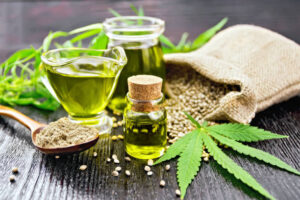 Medicinal cannabis researchers at THCWellness have concluded that tinctures are by far the best method of delivery for medicinal THC. The non-psychoactive effects of this rapidly-absorbed concentrate include protection against blood clots and improving immune system health, alongside acting as a natural blood-thinner. 
If you are interested in experiencing some of the many benefits of cannabis, consider trying a tincture or oil. At NatureMed AZ, we are the proud home of THC Wellness who have some of the best cannabis products available. Stop by our store and speak to one of our budtenders about any questions. You can also place an order for delivery or pick-up at the dispensary. We offer a wide selection of cannabis tinctures from reputable, quality producers like THCWellness, as well as oils, topicals, flower, and more. Call us at 520-620-9123 or shop online at https://naturemedaz.com/shop-online/.