Many cannaseurs and casual cannabis consumers opt for a method of smoking that is different from the age-old flower, joint, lighter, or high, method – be their reasons for smoking medicinal or recreational. And with the vast array of cannabis products on the market, why wouldn't they? These alternative methods of consumption can have higher potency as well as different effects to simply smoking raw cannabis flower. 
One such method of consumption is dab. Dabs, also known as concentrate, shatter, pull 'n' snap, or sugar wax, just to name a few, are a concentrated form of cannabis. A dab high lasts roughly two hours and is fast-acting, usually around ten minutes after use. Dabs produce a considerably more intense high than regular smoking, and this can be attributed to the higher potency of THC. Dab generally has a potency of around 80% compared to regular cannabis flower's 10-15%.
Old-School
Although this form of cannabis is gaining popularity in recent years, it seems to have been around since the 60s. The method of consumption for concentrate is relatively similar to smoking weed from a bong, with a few key differences.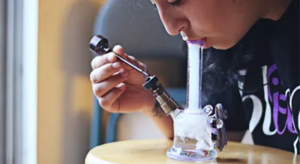 Generally, a dab-rig will be used, such as our glass rig. The dab is placed on a dab nail, while the dab rig is heated with a blow torch on the area where the dab wax will be placed. Then the dab is inhaled, as you would inhale from a normal bong, by holding the dab on the heated dab nail to the dab-rig.
Another method that has been used, is a nectar collector. Rather than a large glass bong-shaped rig, this is a small tubular device. The dab wax can be placed on one end while you inhale from the other end – a blow torch is still needed for this apparatus as dab weed requires extremely high heat. 
Many cannabis users enjoy dabbing for its fast-acting and potent effects as well as its flavor. Additionally, this method tends to last longer than some other methods.
When dabbing traditionally with a torch, getting the right temperature can be challenging. The concentrate will not melt completely if the nail is too cold, and if it is too hot, it will scorch the dab and damage its flavor. Additionally, it can be quite a lengthy, intricate process that isn't always ideal – especially for those consumers looking to relieve pain or muscular spasms. E-nails are devices that provide precise, steady heat to make dabbing cannabis concentrates easier.
New-School 
Everything in life undergoes changes and updates as we advance technologically – and dab is no different. There are a variety of new ways that cannabis consumers can enjoy this highly-potent form of cannabis.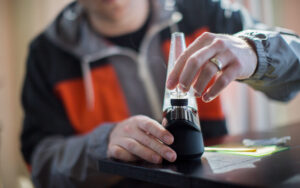 Knowing the temperature to heat your e-nail up to is just as important as choosing the right shatter. Low-temp dabs range from 315°F – 450°F (157°C – 232°C) and are perfect for beginners: this temperature vaporizes terpenes without burning them. For more clouds but less flavor, heat your e-nail to 450°F – 600°F (232°C – 315°C). The highest temperature range is 600°F – 900°F (315°C – 482°C) and it produces the biggest clouds, but be warned: this temp is not beginner-friendly, so start low and work your way up! 
There are many cannabis products and consumption methods that go along with them today, no matter your reason for smoking or your particular preferences, there's sure to be the ideal path to the perfect cannabis experience for everyone. At Nature Med, we aim to supply our customers with the best cannabis products and tools possible, as well as the expert knowledge they need to have an enjoyable, safe cannabis experience every time. 
One such product that we offer is the Ispire Daab E-Nail. However, we produce a range of other products for those looking for a more old-school experience – or an entirely different form of cannabis! Our knowledgeable team is always happy to deliver the best cannabis information, products, and assistance to you so be sure to check out our website!