Contrary to popular belief, not all weed is of the same creed. If you're well versed in stoner culture, you likely already know this. That being said, we want all of our customers – beginner, intermediate, and advanced – to know that there's a strain of weed out there for them, no matter how specific their cannabis hopes & dreams may be.
The Types
First thing's first, it's important to understand the difference between the three main types of weed. Though all flowers are yielded from the cannabis plant, the different species contribute to very different effects in the body and in the experience of the high. Similar to how a butterfly and a mosquito are found in the insect species. Evidently, they perform very different functions.
There are two primary components in the cannabis plant: THC and CBD. While components are found in most strains, the amounts of each vary, creating very different highs and sensations.
THC has psychoactive properties, which essentially means it can affect mood, attentiveness, and cognition. Conversely, CBD has calming properties but without the psychoactive characteristics of THC. These are just some of the many beneficial properties of cannabis.
Once you familiarize yourself with these key differences, it will allow you to better understand the Indica, Sativa, and Hybrid varieties of cannabis.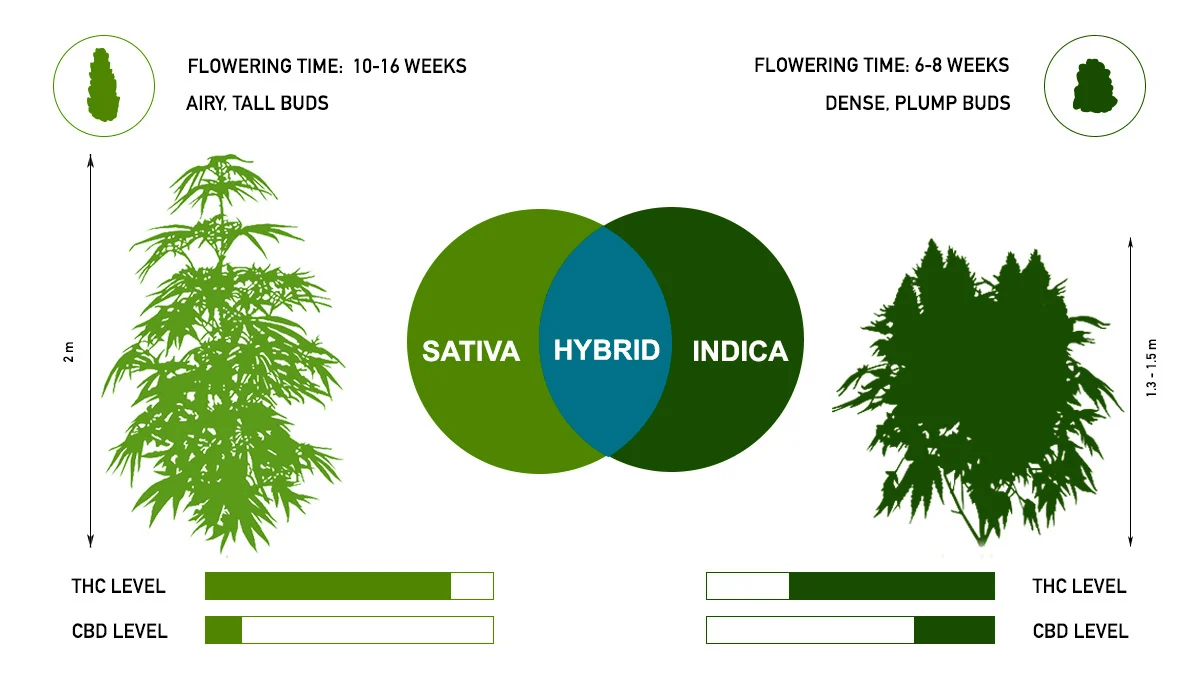 Indica
Afghanistan, India, Pakistan, and Turkey are home to Cannabis indica. Cannabis Indica has adapted and adjusted to the often unpredictable, harsh, and dry climate of the mountainous regions of Hindu Kush. Yes, that's why it's called 'kush.' Indica plants are bushy, dense, and grow close to the ground to withstand varying weather conditions. According to Healthline, 
Indica strains often have higher levels of CBD, but the THC content doesn't necessarily change.
Indicas are known for their incredibly calming effect. If you've never heard the phrase "Indica, in da couch," now's your time to memorize it. Indicas may also aid in nausea relief and appetite stimulation – trust us on this one.
Sativa
Cannabis sativa thrives in hot, arid regions with long days of sun. Africa, Central America, Southeast Asia, and parts of Western Asia are among the regions where Sativa cannabis plants thrive. Contrary to Indica plants, Sativa plants are tall and thin and typically take longer to reach maturity than most other marijuana plants. Typically, THC contents are higher in Sativas than those of CBD.
Sativa strains are known for giving smokers a "mind high." Smokers tend to report lowered anxiety and higher energy when compared to sleepier Indica strains. It's quite common for Sativa smokers to feel extra productive and creative.
Hybrid
Hybrid plants are exactly as they sound. They are typically grown in controlled environments, such as greenhouses or on farms so that growers can control parent plants and ensure specific end-bud results.
Farmers and growers tend to grow hybrids based on their distinct effects. They can help with everything from anxiety and stress relief to chemotherapy and radiation side effects.
In the mainstream market, most strains are Sativa Hybrid or Indica hybrid, as pure strains are more difficult to come by in the consumer market due to cross-breeding by growers.
For the beginner
Now let's get into the good stuff. So you're new to weed, and you don't want to green out on your first go. We've been there. These strains are a gentle way to ease you into the wonderful world of weed.
Blue Dream
Blue Dream is a popular strain among beginners and experts alike, thanks to its well-balanced Sativa effect and non-invasive flavor. Blue Dream has a diverse terpene profile, which may explain why the THC's effects aren't as strong.
Blue Dream is Sativa-dominant and is a very approachable strain for new stoners. Check out our Blue Dream distillate to get you started.
For the insomniac
Can't sleep? Woke up on the wrong side of the bed? While smoking up can be an easy way to ring in a party, it's also an excellent way to ring in a good night's sleep.
Gelato
A great strain for loafing with friends, Gelato has also been known to leave users loafing a little too hard… until the next morning. Gelato does have a pretty high THC content, so if you're not a fan of that all-over body high, be sure to pace yourself.
For the social butterfly
Headed to a party? Not down for the hangover and headache the morning after? We've got a strain for that.
Trainwreck
We know the name doesn't really sell it. But hear us out.
Trainwreck is a heavy-hitting hybrid strain with powerful euphoric and energetic effects, making it ideal for a solid energy boost.
Trainwreck is well known for bending the mind and gently distorting your experience, especially when it comes to time and location perception – kind of like a shot of vodka without the nausea. Grab our THC Wellness Vape to keep you on the dance floor all night long.
At NatureMed, we want everyone to reap the benefits of marijuana. Whether you're a dedicated pothead, a newbie to the stoner world, or simply want to get a good night's sleep, there's truly a strain for everyone.