A common mistake newcomers to cannabis-based medicine might make is to confuse CBD with THC. These two compounds do, in fact, come from the cannabis plant and are also both cannabinoids, but CBD products are different in enough ways from THC products to create completely different effects on the body.

The most striking difference between THC (tetrahydrocannabinol) and CBD (cannabidiol) is that the first will give you a "high" while the second won't. THC is psychoactive, while CBD is not. Researchers have even noted that CBD can help mitigate the highs presented by THC. As for their chemical formula, it's exactly the same: 21 carbon atoms joined with 30 hydrogen atoms and two atoms of oxygen. So you're not far wrong if you've ever made this innocent faux pas. The difference lies in the way these atoms are arranged. Because they're arranged differently, CBD and THC bind to our endocannabinoid receptors differently, providing consumers with a whole host of varying effects.

The difference between CBD and THC goes well beyond atom structure and the ability to make you high, though. Whether you use THC or CBD products for your medical condition depends on how you react to either substance. 
The Uses of THC
Both THC and CBD products interact with receptors in the body called cannabinoid receptors; this makes them tremendously helpful in dealing with many illnesses. Before you decide which cannabis-based compound is best for you, it pays to know which condition each is medically suited to treat. The difference between CBD and THC does matter when it comes to the type of condition you're dealing with.



For example, clinical trials have proven the efficacy of THC products in dealing with glaucoma. Smoking or ingesting THC products are equally effective methods in helping to improve the condition dramatically.

If you suffer from a cluster of symptoms that enable lack of sleep, THC products are incredibly useful in "putting the problem to bed." Bad puns aside, there is very little that THC products can't tackle in this realm; PTSD and chronic pain are some of the worst culprits of bad sleep patterns, and THC reduces both to remarkable effect. In conjunction with CBD, this effect can be heightened. We often focus on the difference between CBD and THC but often go best together.

Although studies into the effects of THC products on insomnia patients are ongoing, there is an ocean of anecdotal evidence to support the use of Cannabis Indica in ensuring light sleepers get a good night's rest. Any of the THC products will be particularly useful in this regard. However, some of the most effective come in the form of bath crystals. Your skin actually absorbs THC, especially in a hot bath infused with it! 
If you suffer from a poor appetite, THC may also be able to help! The root causes of poor appetite are complex, and many THC products play a direct role in stimulating ghrelin, the hormone responsible for making us hungry. There's plenty of clinical evidence for this. However, it's not really needed given the anecdotal evidence for "munchies" (those late-night antics that cause groups of friends to empty the pantry) after a fat joint.
THC is even credited with treating issues like: 
Anxiety

Chronic pain

Nausea

Whether you're looking to treat a medical condition or just get a little high, we recommend always starting off slowly and ensuring you know your end goal. You can find a full range of THC products with varying THC levels. If you need to increase your focus, Indica is always the best choice, but if you need to de-stress, Sativa strains are your best bet. Combinations of CBD and THC have been shown to give the best results regarding pain relief. Hybrids are for more familiar users of THC products. If your psychological profile enables you to use THC, we highly recommend you stop by our shop and talk to one of our expert budtenders.

The Uses of CBD
CBD is credited with solving a whole host of medical issues, and it does this without the psychoactive effects that may not be welcome in older patients or those who like to keep their feet firmly on the ground. There's no doubt, though: the medical significance of CBD is just as important, if not more important, in certain situations.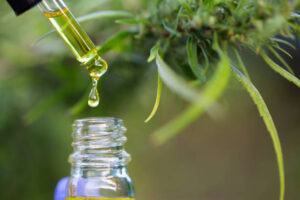 Two particular types of seizures, epilepsy and tuberous sclerosis complex, have shown promising improvement when CBD has been used. Because CBD does not bind to the cannabinoid receptors, this choice in no way compromises the functioning of the patient's brain.

In the case of seizures and Parkinsons, two very different conditions, we generally recommend that patients use a tincture or RSO. This is an oil that is placed directly under the tongue for immediate absorption into the bloodstream.
CBD has also been demonstrated to treat various types of depression. We've learned in recent years that each person's depression exists on a continuum of depressive diseases. These include seasonal depression, manic depression (bipolar), and chronic depression.

Especially in the case of bipolar and schizophrenia, psychoactive cannabis might cause more harm than good, so in these cases, we recommend you stick to pure CBD products (we have a list of products that combine both THC and CBD). We always recommend CBD wellness vape for a relaxed, sleepy, happy feel,.

Some doctors believe that all illnesses stem from inflammation on a deep fundamental level. Arguably the same can be said for migraines, although any type of chronic pain involves some element of inflammation. A combination of CBD and THC goes a long way to solving chronic pain and inflammation. One of our most useful products in this area is THC wellness's body wash and shampoo or a 1:1 salve.

CBD products are also helpful in treating the following: 
Irritable bowel syndrome

Arthritis

Muscle cramps
Always consult your doctor when using CBD or THC. These products can interfere with a list of prescribed medications, so always do your due diligence before using these products in conjunction with your existing chronic medication regime. 
While separately they can work wonders, THC and CBD are truly a powerhouse duo. Due to something called "the entourage effect," THC and CBD (along with other minor cannabinoids) work together to give consumers the best possible benefits. When you consume balanced blends, you lessen the risk of greening out, enjoy all the medical benefits of CBD, and can still have a fun high. You can, in fact, have your cake and eat it too! If you want to learn more about these awesome products, stop by our shop today and speak with any of our expert budtenders.