Medical marijuana was first legalized in the US in California in 1996, but it might surprise you to know that cannabis has been used for medicinal purposes for thousands of years. The earliest known use of the drug was in China around 6,000 BC, where Emperor Shen Nung reported its use as a cure for many ailments. 
But the Chinese weren't the ancient civilizations to use cannabis for medicinal purposes. In fact, throughout history and until the US's Marihuana Tax Act of 1937 turned its usage into a federal offense, nearly every civilization on this planet used cannabis as medicine. 
Let's take a deeper dive into the history of medical cannabis.
Ancient China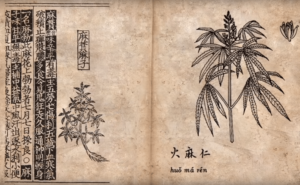 The Cannabis plant is thought to be the earliest cultivated textile plant, having originated in Northern China at the beginning of civilization, roughly 12,000 years ago. According to archaeologists at Yuan-Shan, a Neolithic site that has been excavated, among the relics discovered there were earthenware with markings made from hemp cord marks, as well as a tool that was used to pound hemp for textile use. They also used hemp to manufacture rope, fishing nets, paper, and clothing. In fact, hemp paper is thought to have been originated by the Chinese. But their uses for the plant didn't stop there. Cannabis seeds, as well as cannabis oil, were often utilized as food in China.
These findings at Yuan-Shan, dating back 12,000 years, makes cannabis one of – if not the – oldest known crop used in agriculture.
The very first recorded history in ancient China of cannabis as a medicine was by Emperor Fu Hsi (2900 BC), who often spoke of "Ma," the Chinese word for cannabis. He made mention of the fact that cannabis contained both yin and yang, and that it was popularly used in medicine.
Another famous Chinese Emperor, Shen Nung – known as the Father of Chinese Medicines and who wrote Pen T'sao, the Great Herbal – was, according to legend, the discoverer of the medicinal properties of marijuana. He wrote of the plant's abilities to treat gout, menstruation issues, rheumatism, and even forgetfulness.
Ancient Egypt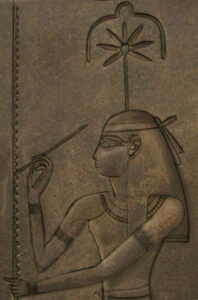 There is both a lot of speculation surrounding the use of medicinal cannabis in ancient Egypt, as well as a lot of solid proof of its use.
For example, the Goddess of writing, Sheshat, is often depicted with a star-shaped leaf on her head and holding a coarse rope in hand. Many believe these are symbols for cannabis and hemp, perhaps pointing to the fact that Sheshat obtained her creativity in writing from the plant itself.
On the other end of the spectrum, we have numerous papyri, dating from 1750 BC (the Ramesseum Papyri) to 1300 BC (the Berlin and Chester Beatty Papyri), that make a note of medicinal uses for cannabis.
The Ramesseum Papyri, considered the oldest medical record ever discovered, mentions the use of cannabis to treat illnesses in the eyes, "celery, cannabis is ground and left in the dew overnight. Both eyes of the  patient are to be washed with it in the morning."
The Ebers Papyri, one of the most famous ancient Egyptian medical records discovered to date, which holds the recipes to over 700 magical and medical formulas, mentions the medicinal uses for cannabis numerous times across its 110 pages. 
Most notable are its recipes for inflammation and feminine health issues. Formula #821 offers a recipe for an inflamed area of the body that uses ¼ honey, 1/64 ocher, 1/32 cannabis, hedjou resin, and ibou plant. Readers are instructed to create a poultice slathered in the above concoction and dress the affected area.
Another part of Formula #821 says that cannabis should be ground into honey and then "introduced into her vagina to cool the uterus and eliminate its heat."
The two most recent papyri found – the Berlin Papyri and the Chester Beatty Papyri – both make mention of using cannabis to treat other ailments, which shows the evolution of the plant as a medicine throughout the centuries. The Berlin Papyri holds recipes in which cannabis is used as an anti-fever medicine. At the same time, the Chester Beatty makes use of its healing properties to treat colorectal problems or as suppositories to treat digestive disorders.
Other Ancient Civilizations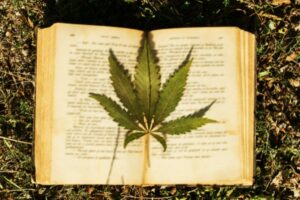 Medicinal cannabis was used throughout history in the vast majority of ancient civilizations. The ancient Scythians used its psychoactive properties in their funerary rituals, and the Greeks used poultices bathed in a cannabis mixture to treat wounds in their horses as well as people. The Greeks also used dried cannabis leaves in an effort to treat nosebleeds, and the seeds were used to treat tapeworms. Teas were made by steeping cannabis seeds in wine or water, and the resulting concoction was used to treat inflammation and pain in the ears. 
Cannabis' psychotropic qualities were also recognized in ancient India, according to surviving documents, and doctors often used or prescribed it to cure a range of illnesses and health issues, such as headaches, insomnia, gastrointestinal problems, and even to reduce the pain of childbirth. 
In 2007, an abnormally high pollen concentration was discovered in a pot excavated from a late Neolithic cemetery attributed to the Beakers of the ancient Netherlands. After years of research, the pollen was found to be made primarily from cannabis with a small amount of meadowsweet mixed in. Due to the fact that meadowsweet holds anti-fever properties, the archaeologists hypothesized that the person found in the excavated grave had likely been severely ill and that the cannabis had most likely been used as a painkiller.
While we often think of the use of medical cannabis to be a modern thing, the truth is that there is evidence to suggest that cannabis was one of the oldest medicines used by civilization at its dawning. Its use in both recreational and medicinal instances was even legal throughout the United States prior to the Marihuana Tax Act of 1937, which turned its use into a federal offense.
Since California legalized medical cannabis in 1996, the world has once again focused its attention back on this ancient medicine, and we can only hope that as we progress as a civilization, we will eventually come full circle in regards to the medicinal uses of cannabis.
For more information about cannabis or to read more of our blogs, check out our website today!