There are tons of names for cannabis and cannabis-related things. In fact, at least 1,200 slang words are used to refer to weed according to slang expert Jonathon Green, and there are hundreds more terms to describe its effects.
Drugs are one of slang's "biggest sellers," according to Green. This is because slang and things that are considered improper in polite society go hand in hand. Basically, in order for people to talk about weed without getting in trouble, they had to come up with new terms.
---
Different Names for Weed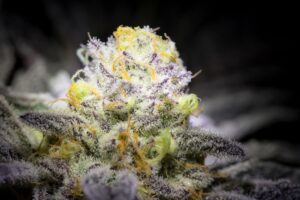 The ancient Chinese term for cannabis, "Má," is the first name ever documented. All of the modern names for cannabis come from the Proto-Indo-European and Proto-Semitic root "ang" or "an," from which the word stems "san-," "kan-," and "gan-" were derived. The Sanskrit words "bhag," "gajik," and "hursn," (which were later Romanized), "cannabis" in Greek, "kunnabu" in Akkadian, and "quinnab" in Arabic are all early words for cannabis.
The term "marijuana" (sometimes marihuana) comes from Mexican Spanish. According to the Oxford English Dictionary, the term may come from the Nahuatl mallihuan, meaning "prisoner," and the term marijuana often carries racist connotations, especially in the United States.
Ganja is a name for cannabis derived from the Sanskrit word gaj, which means "strong concoction from Cannabis sativa" in Hindi/Urdu.  When the British imposed a levy on the "ganja" trade in 1856, the term was already in use in Europe and had been since the late 17th century.
Another popular term, kush, comes from the Afghan strain of the same name, while its texture or color inspired other weed names. Grass or green generally refers to the color of cannabis, while sticky, skunk, or dank refers to its texture and smell respectively. Some people may also refer to cannabis as tree or bud, referencing its natural origins – Rastafarians actually coined the term herb for that reason.
Some may also call weed Mary Jane, MJ or Mary J in anglophone spheres, demonstrating just how many nicknames there are for this herbaceous wonder.
Cannabis isn't just dried flowers, though. While bud is a popular term used to discuss the entire cannabis plant, it really just refers to the smokable portion. Other parts of Cannabis sativa are known as hemp and contain low concentrations of THC, making it legally suitable for sale in parts of the US where cannabis is still illegal.
The buds that are smoked can either be smoked as is or ground into a fine kief. Kief is a Moroccan Darija word that refers to the loose cannabis trichomes that collect at the bottom of your grinder. It can also be rolled together to make hashish, another Moroccan term that describes a super-strong cannabis resin.
Strain Names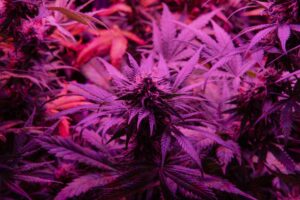 The naming of different cannabis strains has become an integral part of cannaculture – some are named for their parent cultivar (like all of the Kush strains) while others are named for their terpene profiles and effects. Girl Scout Cookies, for example, has a sweet, spicy terpene profile and is reminiscent of those delicious childhood cookies. Gorilla Glue on the other hand is so sticky and dank that smoking it may glue you to the couch.
Other strains are named for legendary figures in the cannabis scene. Jack Herer, cannabis activist and author, has had numerous strains named after him. Bob Marley even has some! Former US President Barack Obama has Obama Kush and Obama Runtz, Olympic athlete Michael Phelps has an eponymous OG strain, former Seattle Seahawks running back Marshawn Lynch was the inspiration behind Beastmode OG and Beastmode 2.0, and even Osama Bin Laden got some strains named after him – we hear they're the bomb.
1000 Ways To Say You're High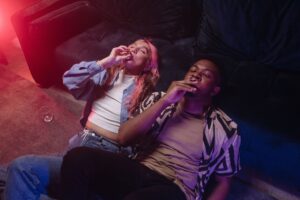 If you thought there were a lot of terms that refer to the plant, prepare to be blown away by the sheer number of words that can be used to say "I'm intoxicated right now." In fact, I'm sure you can think of at least five off the top of your head, and would probably use any of those terms over intoxicated.
According to the editors of the American Heritage Dictionaries' book More Word Histories and Mysteries: From Aardvark to Zombie, slang terms for intoxication typically originate from words that originally meant "damaged or badly affected by something," such as "trashed, smashed, crocked, blitzed," and so forth. The term stoned is derived from older idioms like "stone drunk" or "stone cold," which themselves were the terminology that first brought the stone analogy into slang, and is primarily used nowadays for intoxication caused by substances other than alcohol (read: cannabis). And both of those terms imply a state of lifelessness or, in the case of "stone cold," death, which is congruent with the idea of a "stoner" lounging on the sofa and doing nothing.
Other terms for "super high" include blazed, toasted, zoinked, blasted, loaded, baked, etc. Most of these refer to one of the mechanics of smoking weed, like lighting the flower on fire, or loading the bowl piece. Sometimes, though, people just get creative with it and come up with random phrases to describe their state of mind.
Words like gooooofed (extra o's are absolutely necessary), zooted, zonked, soaring, or couched are just stoners getting creative with their state of mind, and a lot of them stuck!
---
Weed smokers are a creative bunch of people. From coming up with a million ways to say "high" to clowning former US President Bill Clinton for not inhaling, kush enthusiasts have proven themselves to be punny powerhouses.
At NatureMed AZ, we have educated budtenders who can give you the scoop on just about anything weed-related. Come on in and ask some questions, get familiar with the products, and get the best deals around. NatureMed AZ is YOUR one-stop shop for anything weed-related, so come on in today!