Recreational and medical cannabis has been used for centuries, and today it's the most widely consumed drug on the planet.
Governments worldwide started outlawing the sale and use of marijuana in the early 1900s. As a controversial component of the "war on drugs," cannabis prohibition reached its height in the 1970s. This movement fed skepticism and mistrust about the advantages and disadvantages of cannabis use for several generations. However, thanks to modern science, cannabis has been legalized for both recreational and medicinal purposes in most U.S states and a number of other countries around the world.
Cannabis has been shown in studies to have plenty of health benefits, especially when used safely and responsibly. However, cannabis use has real risks, and certain vulnerable populations should avoid it.
A recent poll shows that the number of Americans who support the legalization of cannabis has increased to 68%. With more people accepting cannabis use as normal, it's become vital to understand how to use cannabis responsibly.
What Is Responsible Cannabis Use? 
Responsible and healthy cannabis use requires moderation. When you know that you have significant obligations, such as caring for children, it's best to avoid using cannabis until you have more free time.
It's vital that you remember that driving after consuming cannabis is dangerous, smoke from cannabis is harmful to the lungs, and it's healthier to vaporize cannabis oil or flower rather than smoke it.
A few ways that you can ensure you're consuming cannabis responsibly include:
Not consuming cannabis too often.
Consuming cannabis in small amounts.
Leaving at least a two-day gap between each time you use cannabis.
Opting for products that have low levels of THC.
Pregnant or breastfeeding mothers, teenagers, those diagnosed with psychosis or bipolar disorder, and people who are likely to have a medical reaction should avoid using cannabis as it could potentially increase the risks associated with cannabis.
The Safest Ways to Use Cannabis
Purchase Your Cannabis From a Legal and Reputable Source
One of the best things about cannabis being legalized in so many places is that it's now a requirement that all products have their safety tested in a lab. This ensures that the cannabis they're selling contains zero pesticides, harmful chemicals, or mold. By testing your cannabis in a lab before using it, you'll know if it's going to cause mind-altering effects and exactly how much THC it contains, giving you the ability to dictate the way you feel when you're using cannabis.
When purchasing a product from a licensed cannabis dispensary, the label will indicate the amount or percentage of CBD in the product. Doctors advise people to choose products that contain a balance of THC and CBD. Experts also advise choosing products with low THC levels. Even when purchasing from a reputable source, you should still be on the lookout for bad-quality cannabis that could cause adverse effects when consumed.
Choosing what Kind of Cannabis to Buy
There is a wide range of cannabis products to choose from in regulated markets. Remember that the effects of cannabis differ greatly from person to person, so it's important to know what you want to get out of your cannabis use and what your needs are. No two people will have the same cannabis experience, so if you're a new user, it's best to fully contemplate all of your options.
There are three broad categories of products, each with a distinct effect.
Smoking or Vaping: THC is delivered directly to the brain through the lungs' oxygen-rich blood by smoking or vaping cannabis. As a result, the effects of THC are felt almost immediately and last for 2 to 3 hours.
Many people want the immediate effect of inhalation but are concerned about smoking. Fortunately, cannabis can be vaporized rather than burned. That is, cannabis oil or flower (raw plant material) can be heated to produce vaporized THC, CBD, and other molecules such as terpenes. If you do prefer to smoke your cannabis, the method you use can greatly impact your experience. Inhaling cannabis vapor is generally thought to be less dangerous than smoking. This is due to the fact that, like tobacco, burning plant material produces cancer-causing chemicals. A handheld vaporizer can be used to inhale the vapor from cannabis oil or cannabis flower. You can also inhale THC by superheating cannabis concentrate, such as dabs, wax, or shatter, and inhaling the vapor. Inhaling cannabis concentrates, known as "dabbing," poses serious risks to both mental health and the lungs.
Edibles: THC must first pass through the digestive system and the liver before reaching the bloodstream. As a result, it can take up to two hours after swallowing THC to feel its effects. The effects of edibles and similar products typically peak around 2 hours but can last up to 12 hours.
Consuming too much THC is easy when it comes to edibles, resulting in anxiety, a racing heart, and even panic. People frequently overdose because the effects take so long to become apparent. They take more before their first dose takes effect, believing they did not take enough. It is critical to wait for 2 to 3 hours before taking another THC dose.
Lotions and creams: Some experts believe the best way to use cannabis is through skin care products that are made from both CBD and THC-rich cannabis. While some skin care products may start to work right away and last for several hours, other products may have no noticeable effects at all.
Even when THC is present, most topical products do not cause cognitive or memory problems. This is why topicals are such a good place to start for people who are new to cannabis.
Some topical cannabis products, on the other hand, may contain other ingredients that help THC and CBD penetrate the skin and reach the brain. So, if you're using a THC topical for the first time, expect some mental/physical impairment.
Reducing the Risks Associated with Cannabis Use
Feeling too high can have unpleasant side effects, including nausea, anxiety, and dizziness. This is the biggest short-term risk of cannabis use. Preventing these unpleasant emotions in the first place is the best way to deal with them. Typically, the more THC you use, the greater the likelihood that you will suffer side effects. Therefore, it is wise to use a low-THC product or only a small amount of cannabis.
If you feel too high, know that it's only a passing feeling. "Greening out" on THC has no known cure; the effects simply wear off over time. Although consuming too much cannabis can be unpleasant, it is not dangerous or life-threatening.
If you feel like you've gotten too high, try drinking some water, lying down, listening to soothing music, and taking a few slow deep breaths.
When is it Too Much?
If you're a regular cannabis user, you may have noticed that you suddenly need to consume more in order to feel the effects. Increased tolerance is a sure sign that you're using too much cannabis, and you should take a break.
Having a high tolerance increases the chances of you becoming dependent on cannabis, and quitting could lead to unpleasant feelings of withdrawal. The symptoms of cannabis withdrawal are similar to that of nicotine, and you can expect to experience irritability, cravings, anxiety, low appetite, and poor sleeping patterns.
It's recommended that people take a 48-hour tolerance break on a regular basis. This may reduce the risk of physical dependence while also allowing the body to remain sensitive to the effects of cannabis.
Cannabis, like many other natural activities and substances such as gambling, sugar, and nicotine, can be abused. You should always be on the lookout for symptoms of a cannabis use disorder. If you've experienced two or more of the following symptoms, you should seek help or try to slow down your cannabis intake.
Despite the risk of losing your job or loved ones, you continue your consumption.
Withdrawal and high tolerance.
Constantly craving cannabis.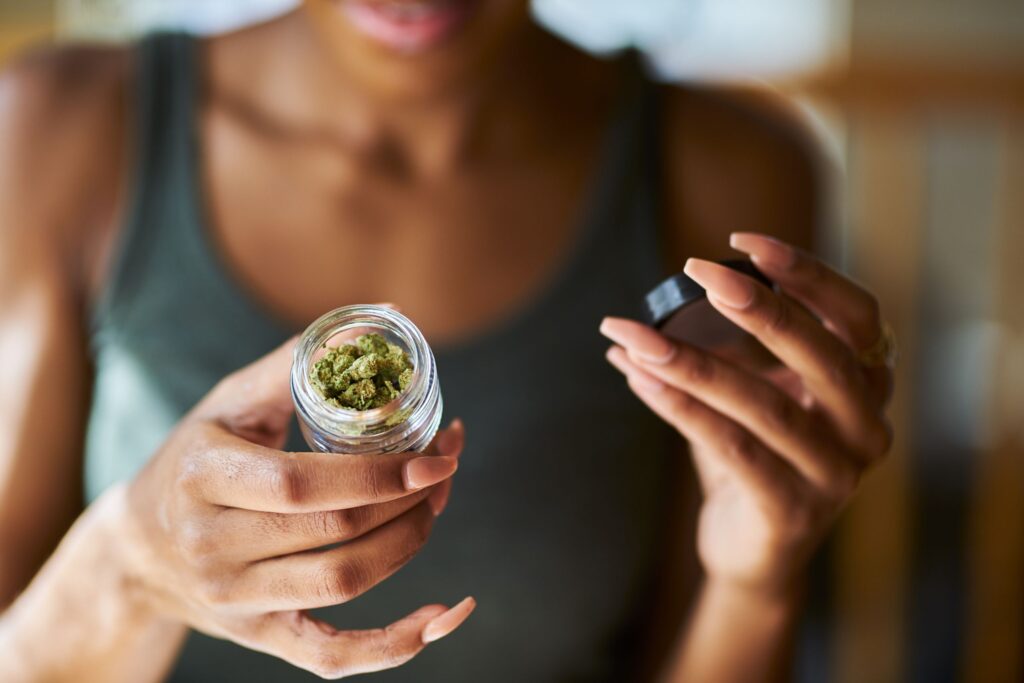 ---
Cannabis is an incredible product, and we're finding new beneficial uses for the plant all the time. That being said, every good thing has a dark side, and you need to be aware of what they are. It's always a good idea to know what you're putting in your body, whether for fun or for medicinal purposes. The risks associated with cannabis are minimal, but that doesn't mean they should be ignored.
Visit our website if you want to get some good bud without all the hassle. When you choose Nature Med, you won't have to worry about unsafe bud because all of our cannabis products have been examined and approved by the health department. Nature Med's goal is to provide only the best cannabis products available, and our knowledgeable budtenders are happy to answer any and all cannabis-related questions you may have. Is it not your thing to smoke? We have edibles, concentrates, and other products to meet your needs!