Why Edibles Last Longer (And Hit Harder) Than Smoking
Edibles are a great way of medicating — they're discreet, convenient, and last longer than smoking. However, as many stoners will tell you, it's very common to take an edible with 10 mg of THC and get way too stoned. Why is this the case — why does smoking a joint get you half-baked when the same size edible gets you so high that you can barely lift your legs off the floor?
Edibles vs Smoking
Are you new to edibles? If so, you're probably wondering why they can be so much more potent than smoking.
The reason is simple: when you smoke cannabis, the THC goes into your bloodstream, and you get high. When you eat cannabis, though, it's processed by your liver, and it produces something called 11-hydroxy metabolite. 11-hydroxy-THC is thought to be 2-3 times more potent than THC and could have significantly more significant psychoactive effects. Orally consumed THC also needs to be digested first, so it can take longer for the effects to take effect—about 1-2 hours.
It's important to know that edibles are different from smoking in many ways—and not just when it comes to the time frame! One of the most common mistakes people make when trying edibles for the first time is taking too much (or even too little). This often leads to an overwhelming experience that can last up to 8 hours (in some cases), which doesn't happen when you smoke weed.
11-Hydroxy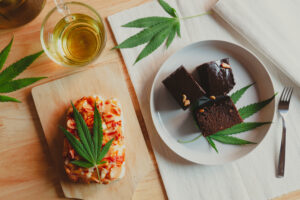 THC, or tetrahydrocannabinol, is the chemical compound in cannabis that gets you high. But there's more to it than that.
When you ingest THC in an edible, your body converts it into 11-hydroxy-THC (11-OH-THC). 11-OH-THC is a much stronger version of THC—some estimate it's up to 5x stronger—and it stays in your system for quite some time. That means edibles can hit you harder than smoking, which also means they're stronger and more likely to make you feel psychoactive effects.
The exact science behind this process is still being studied thanks to prohibitionist laws, but it's been estimated that the body's first-pass metabolism produces far more 11-hydroxy-THC after oral administration than when cannabis is inhaled. This may explain why cannabis edibles can feel more potent and more psychoactive than a similar dose that's been inhaled.
How to Dose Edibles 
If you've never tried edibles before, you may be wondering how to dose them properly.
The good news: it's not as hard as you might think! You can start small and work your way up from there. Most store-bought edibles come in either 1 mg, 5 mg, or 10 mg servings, so you can start with those. Just remember that it can take up to two hours for the effects to kick in, so don't get impatient and take more because you're in a rush!
If you do "green out" (aka get too high), there are a few things you can do to mitigate the feelings. Remember that you can't overdose on weed, so there's no need to worry about your safety. You are okay! Stay calm and grounded, drink plenty of water, eat something—anything that will help keep your blood sugar stable—and reduce stimuli around you (turn down the lights and music).
---
Edibles last longer and hit harder than smoking, which can be intimidating for new users. But once you understand how they work and start small, you'll find that edibles are an effective way to treat your condition without worrying about the dosage level or how long it will last.
At Nature Med in Tucson, AZ, we encourage our patients to purchase their medical marijuana from us because we know how important it is for them to have access to safe products that are well-labelled and properly packaged. We take pride in providing our customers with high-quality medicine, so you can feel confident knowing that when you buy from Nature Med, you get exactly what you need!